Brat Scoile Ghníomhaí
Active School Flag
This is an initiative supported by the Department of Education & Skills, based in Mayo Education Centre.  Once awarded this flag is valid for 3 years. This initiative wishes to recognise schools that strive to achieve a physically educated, physically active school community by awarding them the Active School Flag.
We recognise and promote the importance of an active, healthy lifestyle, organising various initiatives to give the pupils an opportunity of getting active. We offer a wide and varied approach to physical activity, both indoor & outdoor, through P.E. and also through lunchtime and after school activities.
Sport and physical activity have always been central to life in Gaelscoil Bhríde but since embarking on a journey to secure our Active School Flag we have brought this to a new level with many very worthwhile initiatives being introduced. The benefits of this are clear to be seen with our pupils engaging with many new and different activities.
Coiste Aclaí
Active Flag Committee
We have a fantastic, enthusiastic committee of 12 pupils, 2 from every class from Rang 1 to Rang 6 along with our Múinteoirí aclaí! This committee meets to plan engaging, physical activities for the whole school, throughout the school year. This great bunch help put a plan together to get everybody active!
Cinnirí Aclaíochta
Active Leaders
We have a superb team of Active Leaders from the senior classes. This team changes throughout the year and new leaders take over. Their role is one of support and encouragement, leading the younger pupils in various activities at break time and lunchtime. This has proven to be one of the most fruitful of our "active" initiatives, with both senior and junior pupils, not only benefiting physically but also socially, where the interaction between both groups has been a joy to behold. This team has led sessions in ball skills, fundamental movement, scavenger hunts, orienteering, Rith timpeall na hEorapa' "Aoine Aclaí", to name but a few!
Seachtain Scoile Ghníomhaí
Active School Week
This is a firm favourite with our pupils with a full week of fun outdoor and indoor activities along with a week of physical homework – not a single word to be written! Below is a sample timetable from our Active Week last year.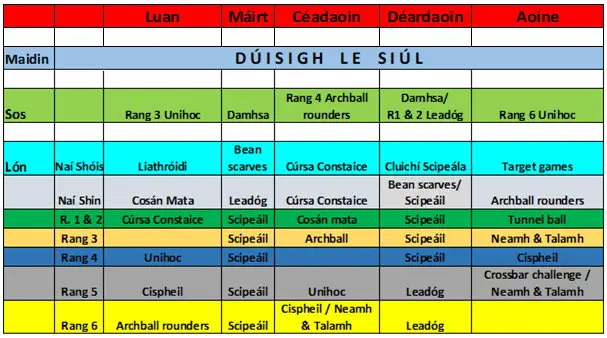 Gluais ar an gCéadaoin
Active Homework
This is a big hit! Wednesday nights, the school bags are left to one side and it's time to grab the dog, the bike, the ball, the hurley, the music …. And get moving! We encourage all pupils to spend 45 – 60 minutes doing something fun and active. Parents must sign off on this activity in the "Dialann Obairbhaile".
"Aoine Aclaí"
Fun – filled Friday
Fridays have just gotten a whole lot better! What better way to kick start the weekends with a Fun-filled Friday. Skipping, Obstacle Courses, Bean Scarves, Scavenger Hunts, Unihac, Buail amach, Circuits, Orienteering, Fun Run, Tug 0 War …. The list goes on.
"Seachtain Spóirt na hEorapa"
European Week of Sport
A great way to kick start the year! Get moving early, clocking up the kilometres, visiting the cities and the major landmarks of Europe. Every lap equals 1 km, the more we run, the further we travel … Big Ben, Eiffel Tower, Leaning Tower of Pisa, Lake Bled … We visited lots of interesting places, not only increasing our fitness and wellbeing, but learning lots also! We have participated in both 'The Tour of Europe' and 'Running around Europe' initiatives.
"Slí na Sláinte"
Active School Walkway
Thanks to the lovely signs we received from "Get Ireland Walking" we have a great walkway on our own school grounds. Junior classes walk this at small break (1 1/2 – 2km) and the senior classes walk/run it at lunch break, with many of our pupils covering 5km. Our Múinteoirí join in also. Not sure how many of them surpass 5km!!
"Léim ar an Luan"
We have held Skipping Workshops in our school over the last couple of years. "Skipping for Life" and "Skip 'n Rope", both of which have been a huge success. The interest it has fuelled in skipping in our school has been phenomenal with all pupils from Junior Infant girls to Sixth class boys been bitten by the bug! To see where we all started, day 1 of Workshop 1 and how we have progressed from "Flailing Windmills" to ever so polite "dinner ladies" has been amazing to watch. Pupils and the school invested in ropes and both individuals and groups fill the yard on skipping days. Street Ropes and associated games have been a massive hit! As regards physical activity, it's undoubtedly one of the best and so inclusive!
"Smart Moves"
We have timetabled the Smart Moves, Motor Skills Development Programme into our school timetable, with all classes in the school participating in the activities. We set up 5/6 stations for the Junior classes and another set for the Senior classes and pupils must negate a series of exercises, tasks, activities, practising and enhancing fundamental movement skills. The fun activities have been designed specifically to help
Self Esteem and confidence
Co – ordination, balance and movement control
Ball Skills
Listening and Turning taking
Spatial and Body Awareness
Organisation and Sequencing
Creativity and expression
Social Skills and Listening Skills
Fun
Tuesdays and Wednesdays are "Smart Moves" days and everybody looks forward to having lots of fun!
Clár Ama Smart Moves
An Mháirt
| | |
| --- | --- |
| Am | Rang |
| 8.45 | 3 |
| 9.10 | 4 |
| 9.35 | 5 |
| 10.00 | 6 |
An Chéadaoin
| | |
| --- | --- |
| Am | Rang |
| 8.45 | 2 |
| 9.10 | 1 |
| 9.35 | N. Shinsir |
| 10.00 | N. Shóisir |
Sample Junior Activities
 

Warm Up

 

 

All together

Running on the spot, getting faster, lifting knees up.  Traffic Lights, Jumping Jacks, Windmills, Aeroplanes, Animal Walks.
 

Strength & conditioning

1.Half Press Ups

2.Bunny Hops

 

 Press the palms of the hands into the floor and straighten the arms and to keep the upper body as long and straight as possible; Tighten the body for five seconds, holding this position, i.e. a half press-up position.

 

Balancing

1.Bean Bag Walk

 

2.Tightrope walk

 

 

3. High Jinx Jumps

The children walk to a bucket with a bean bag on their foot & drop the bean bag into the bucket without using their hands.

Stretch the ropes out to make a straight line. The children are pretending to be acrobats. Start with walking forwards being careful not to fall off as there are no safety nets.

Children stand along a bench as if they are skydivers.  They must jump out of the plane onto a mat.

Star-Jump (jump with legs & arm out wide)

Spotty dog (jump and land one foot in front of other, older children can just land on one foot)

Mini-Turn (jump but twist as jumping)

 

 

Methods of travel

1.Human Skittles

 

2.Sammy Snail

 

 

3.Bottom Shuffle

With mats laid out in a runway, the children have to log roll down the mat, keeping arms and legs straight & try to knock the skittles

Children have to travel on their bottoms along the mat

Use both hands to support & keep a quoit on their laps, hold the quoit in one hand while using other hand to support, no hands, no hands with quoit on foot

 

 

Dodge & Chase

1.Zig Zag Run

 

2.Artic Lorry

 

 

3. Dragons Tail

Mark out an obstacle course for the children to weave in and out of. Start with walking the course, then jogging through it then as fast as they can without knocking anything over (use racket & ball with older classes)

Children in pairs.  The 'trailer' holding waist of 'truck'.  Trucks weave in & out through the cones while trailer follows & must stay attached.

Children line up behind each other pretending to be a dragon.  Last child has a tail. On a signal the dragon begins to chase it's tail.  When he catches it the head becomes the tail

 

Hand Eye Control

1.Spaceball

 

 

2.Balloon Tennis

Children must keep their balloon off the ground while using all body parts to do so.

In pairs the children bat the ball to a partner

 

Cool Down

 

All together

Marching, Stretching – arm stretch, direction stretch, finger stretch, back stretch, long stretch, cat pose, funny faces.
Dúshlán Aclaíochta
Active Challenge
For 4 consecutive weeks, each class has committed to undertaking this Active Challenge, which we completed in November of this school year. This involves an active break every day, for a month. This break may be running, dancing or any other form of activity. This is then recorded on a classroom chart, which is displayed in the classroom. The Active School Committee members are responsible for ensuring its implementation in each room.
"Circuit Training"
High intensity training session takes place in the school hall at lunch time. Pupils work hard, pushing themselves through various exercises, as background music keeps things upbeat! Hard work but great fun! Phew……cá bhfuil mo bhuidéal uisce?! Sessions run at am lóin, Tuesday, Wednesday and Thursday!
"Christmas Fitmas"
Dé Céadaoin:                 20 Snowman Squats
Déardaoin:                  10 Réalt na Nollag (Star Jumps)
Dé hAoine:                   5 Santa Sprints
Dé Luain:                     10 'Síos an Simléar'  (Lámha amach díreach os do chomhair agsu léim suas san aer  agus síos, ag cromadh, agus suas arís)
Dé Máirt:                     10 soicind – Jack Frost Plank
Dé Céadaoin:               Reindeer Run – Rith ar fud an chlóis/halla ar feadh 1 nó 2 nóiméad. Ar an bhfeadóg, reoigh
Déardaoin:                  Síoga ag obair ( Liathróidí boga caite ar fud an halla. Cé mhead liathróid gur féidir a chur i mála Daidí na Nollag i 10/20/25 soicind)
De hAoine:                   Crazy Santa Dance
Just a flavour of some of our fun exercises to prepare for the yummy treats of the festive season!
"Bí Gníomhach i 2019"
Get Active in 2019
A great way to kick start the New Year! All pupils were given a copy of this timetable to be incorporated into their nightly homework. Not as easy it might look! We aim to push ourselves a little further every day!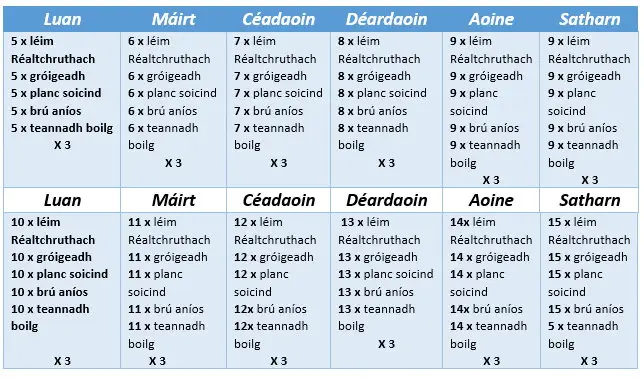 'Bí ag Bogadh' – Active Board game
'Get up and Go'
This little gem has been the latest addition to our school activities menu! This bilingual, active board game has been devised by our fifth class pupils as part of their involvement in the Junior Entrepreneur Programme. Many of these pupils are part of our cohort of Playground leaders and are very aware of our efforts to increase activity levels in the school through fun initiatives. This game has it all! It ticks many boxes! It can be played by individuals or in teams, at home or in class, enjoyed by all ages!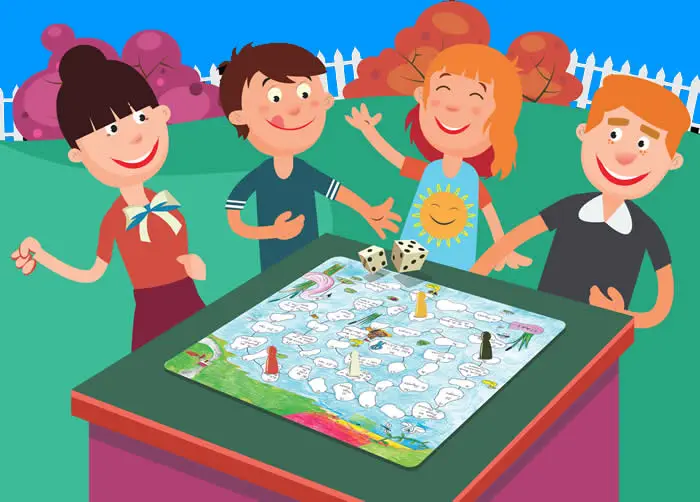 Bí ag Bogadh!
Bí ag bogadh, Bí ag spraoi,
Ní mian linn seasamh,
Ní mian linn suí!
Dearmad an xBox,
An iPad 's an teilifís,
Aclaí agus sláintiúil,
Sin ár bhfís!
Get up and Go!
TV, iPad, PS, Xbox,
No thank you, not for us!
Raining outside? What will we do?
Take out our game, play 'Get up and Go'!
Local Sports Partnerships
We are lucky that our school has strong connections with local sports organisations such as the local G.A.A. clubs, Durlas Óg, Thurles Sarsfields and Thurles Gaels, Peake Villa Soccer club and Athletics. We are also affiliated to North Tipperary Sports Partnership who support the development of games and sport in our community.
We are very lucky to have such strong links with the local G.A.A. clubs, where a coach supports the development of skills in our Gaelic Games from Junior Infants to Rang 6, in hurling, camogie, football and ladies football.
The F.A.I. also provides soccer coaching to various classes.
We have links with Athletics Clubs also, who help support our work in developing skills in this area, through providing training sessions for both staff & pupils.
We have also signed an agreement with the newly formed Tennis Club and look forward to working with them when their new facilities are up and running.