Caithfimid tréaslú ó chroí lenár bhfoireann reathaithe a ghlac páirt i gcórtas trastíre an chontae i Thurles Crokes AC inné. Bhí an coinníollacha gránna, ach níor chuir sé sin stop lenár lúthchleasaithe ag léiriú a gcuid cumais. B'fhiú an traenáil go léir le Múinteoir Michelle ag am lóin.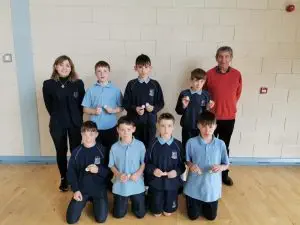 We are so proud of our superb team of athletes from Rang 3 – 6 who travelled to Thurles Crokes AC yesterday, to participate in the Tipperary Schools Cross country championships. The weather, unfortunately didn't make things any easier, but our superb boys and girls were not deterred! They showed unbelievable grit and determination, in securing county titles in all events. It was an exceptional performance, thanks to the many lunchtimes given up to training with Múinteoir Michelle. Below is a list of both team and individual results. Given that over 3,000 pupils participated in yesterday's event, it makes their success all the more remarkable!
Míle buíochas to Múinteoir Michelle and Múinteoir Elaine for braving the elements and preparing the pupils on the day and of course to the many hardy parents who came out to support us! Maith sibh!
Many thanks also to Martin Flynn, athletics coach for giving of his time to present the medal sto the pupils and share some encouraging words with them. Go raibh míle maith agat Martin!
Rang 3 & 4 – Major Schools Girls
Team – 3rd Place – Bronze Medal
Rachel Ní Dhubhda – 1ú Áit Gold
Rang 3 & 4 – Major Schools Boys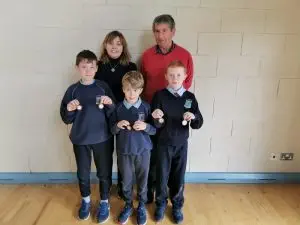 Team – 3rd Place – Bronze Medal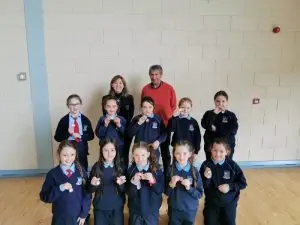 Harry Sheppard – 2ú hÁit Silver
Rang 5 & 6 – Major Schools Girls
Team – 1st Place – Gold Medal
Kaelinn Rossiter – 1ú Áit – Gold
Caoimhe Stakelum – 3ú hÁit – Bronze
Rang 5 & 6 – Major Schools Boys
Team – 2nd Place – Silver Medal
Donogh Ó hIcí – 2ú hÁit Silver